Here's the guide on How to Post to multiple Facebook groups, even the groups you don't admin.
Intro: Why Facebook Groups are Important.
Facebook groups are important, more so than before. Why? Because since the recent Facebook newsfeed update, Facebook Groups are given more importance than Facebook Pages.
Posting to Facebook groups can get you more exposure to your posts. So if you're posting about your business/product/website, you can get more attention, sales and website hits using the Facebook Groups.
How to Post to Multiple Facebook Groups
To post to multiple Facebook groups you're a member of, posting manually will take too much energy and time. And will give you issues since you won't be able to calculate exactly when to post to each post to prevent any issues.
So, how you can post to all groups you're a member of automatically? By using PilotPoster.
Here's how:
1. Sign up for PilotPoster Facebook Auto Poster
Due to too many sign ups and abuse by some users, we have disabled free trials of PilotPoster to protect the system for serious users like yourself.
Posting to Facebook is no longer just a fun activity, it's a business opportunity for many to grow their business.
So to sign up for PilotPoster, you have to purchase a plan. You can do so by going to PilotPoster Pricing.
Once you have signed up for PilotPoster, move on to the next step.
2. Connect your Facebook account with PilotPoster
After signing up, the first thing to do is connecting your Facebook account with PilotPoster.
To do that, follow this guide: How to Add a Facebook Account to PilotPoster.
In some locations, trying to log in from different location, PilotPoster being the one, will not work as Facebook blocks the new login thinking someone is logging to your account without your permission.
In that case, we have a desktop app for generating the token. So you can generate an access token on your local computer and add it into PilotPoster to add your account. For a step to step method, follow this guide: Connect your Facebook account to PilotPoster using the Desktop app.
3. Prepare your PilotPoster account for Group Posting
Before you can start posting to multiple Facebook groups, you have to configure certain settings like your timezone and some other settings.
The first step is to go to Settings > General Settings on PilotPoster Dashboard and you'll see these options:
Here you can choose your Timezone and Language for PilotPoster. So all your schedules will run according to the timezone you select here, so make sure to select the correct one.
Next, go to Settings > Publish Settings and you'll see these options:

We suggest you enable Unique Post and Unique Link option here, they help you make your postings unique by adding a random text on your messages and links. For more details about these features, takes a look at this guide: Preparing your PilotPoster Account for the First post
4. Group Sorting (If needed)
It is recommended to sort your groups by category so you can easily know what to post to each category. This is not mandatory but if you want to achieve the best result in posting to multiple Facebook, then it is highly recommended.
Use the category and node function on the dashboard to create categories of your groups.
5. Prepare your Post
Facebook has four different post types, Message, Link, Image, and Video. We have designed our system to be able to also post these four post types.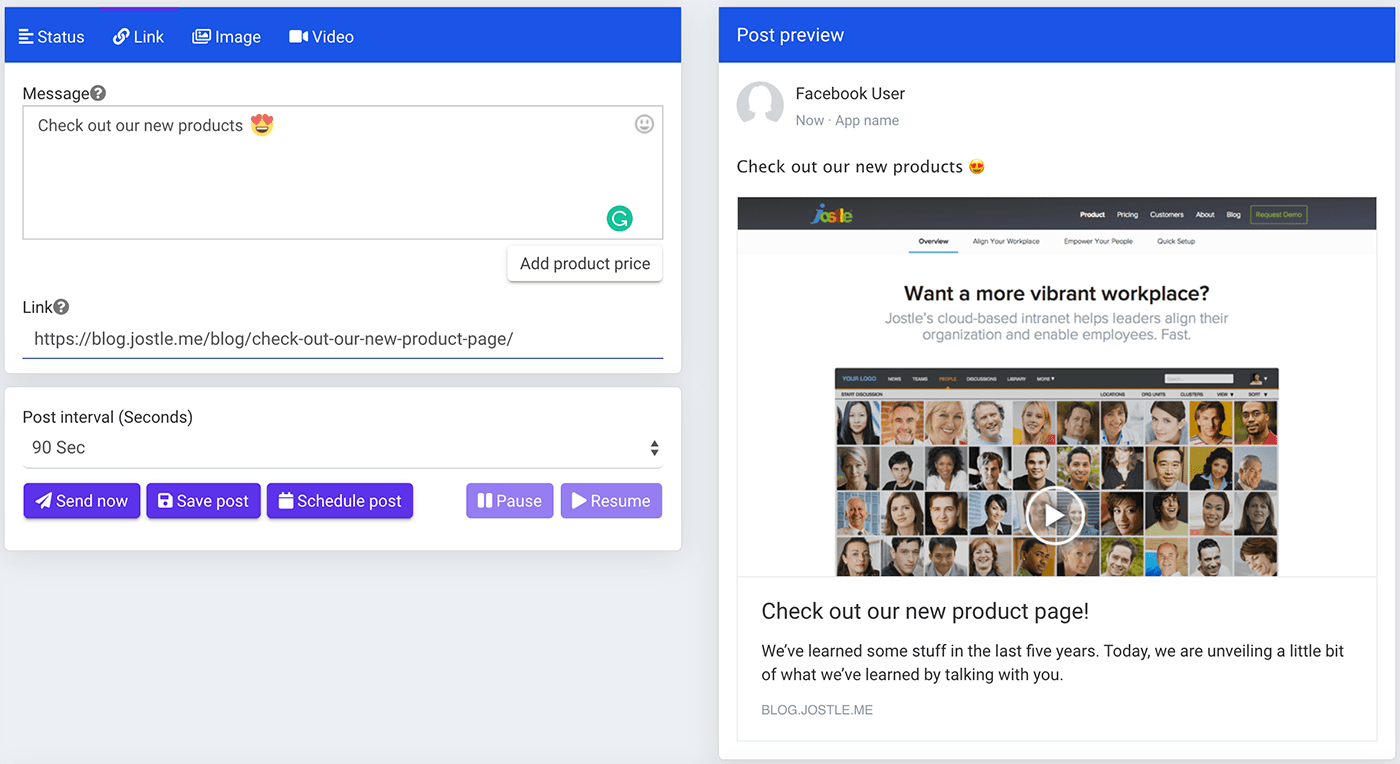 Just add your message, link, image, or video details, and see the live preview of how your post will look on Facebook.
6. Select Facebook Groups You want to Post to
After creating your post as shown in the above step, scroll down to see your Facebook Groups list and select the groups you want to post your message to. (If you have created a category, select the category from the drop-down).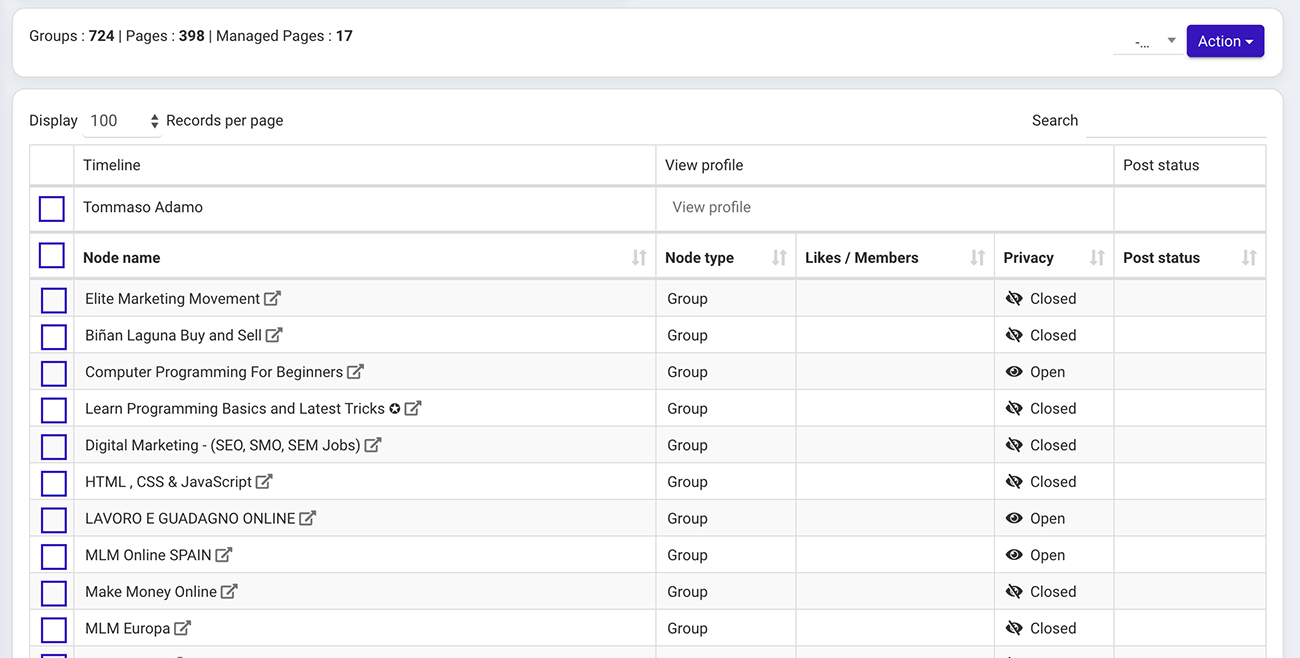 7. Post Live or Schedule your Posts
There are two options to post on PilotPoster. One is to Post instantly live so you can see each post being posted right on the dashboard and second is Schedule where the app will post to groups on autopilot on your selected time, even if you close your computer.
To post instantly, Simply set your post interval and click the send now button. Relax and watch your post being posted to the groups with the intervals set.

For Scheduling: To schedule posts for a later time while you are away. You do NOT have to use the Send now option, instead, click on Scheduled Posts additional fields are opened automatically which you can fill like in the image below;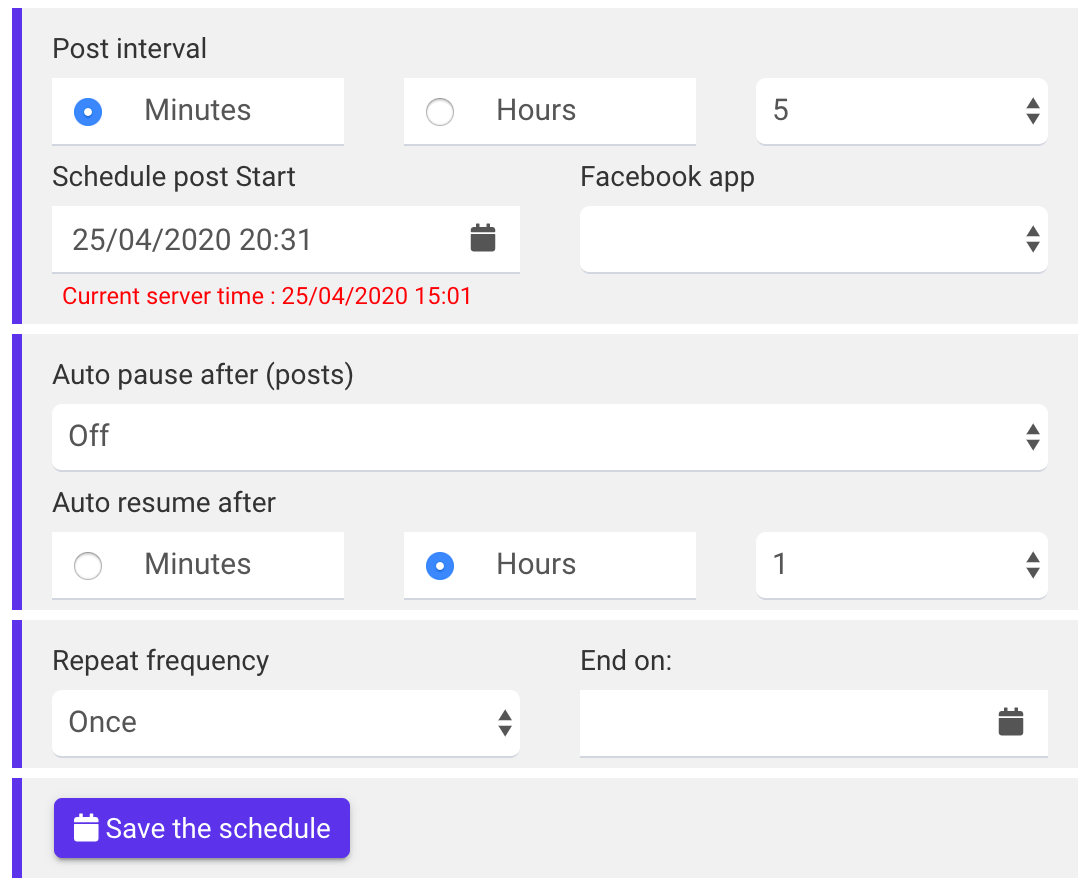 Note: You must Save a post first before you can schedule.
To view your scheduled posts, go to Publishing > Scheduled posts and you can see all your scheduled posts and logs.
By doing these steps, you have successfully scheduled or posted to multiple Facebook groups automatically. 
Final Thoughts
Posting to Facebook groups is an activity that can get you fruitful results. But going to group by group and posting is not feasible.
So to post to multiple Facebook groups at once, you need to take the help of Facebook group poster like PilotPoster.
PilotPoster can not only help you post to multiple Facebook groups, it can also help you post to your pages and profiles as well.
Not only that, you can also post to groups of multiple Facebook accounts all from one dashboard using PilotPoster.
You can get your post to reach thousands of users by intelligently using PilotPoster to post to groups using 5-10 different Facebook accounts, think about the engagement you will get.
So this is it. If you have any questions, comment below!