Step 1: Change your PilotPoster Timezone
First step is to change your timezone in your PilotPoster account to make sure your postings work fine on your time.
Go to Settings > General Settings and select your timezone in the Timezone field and click save changes.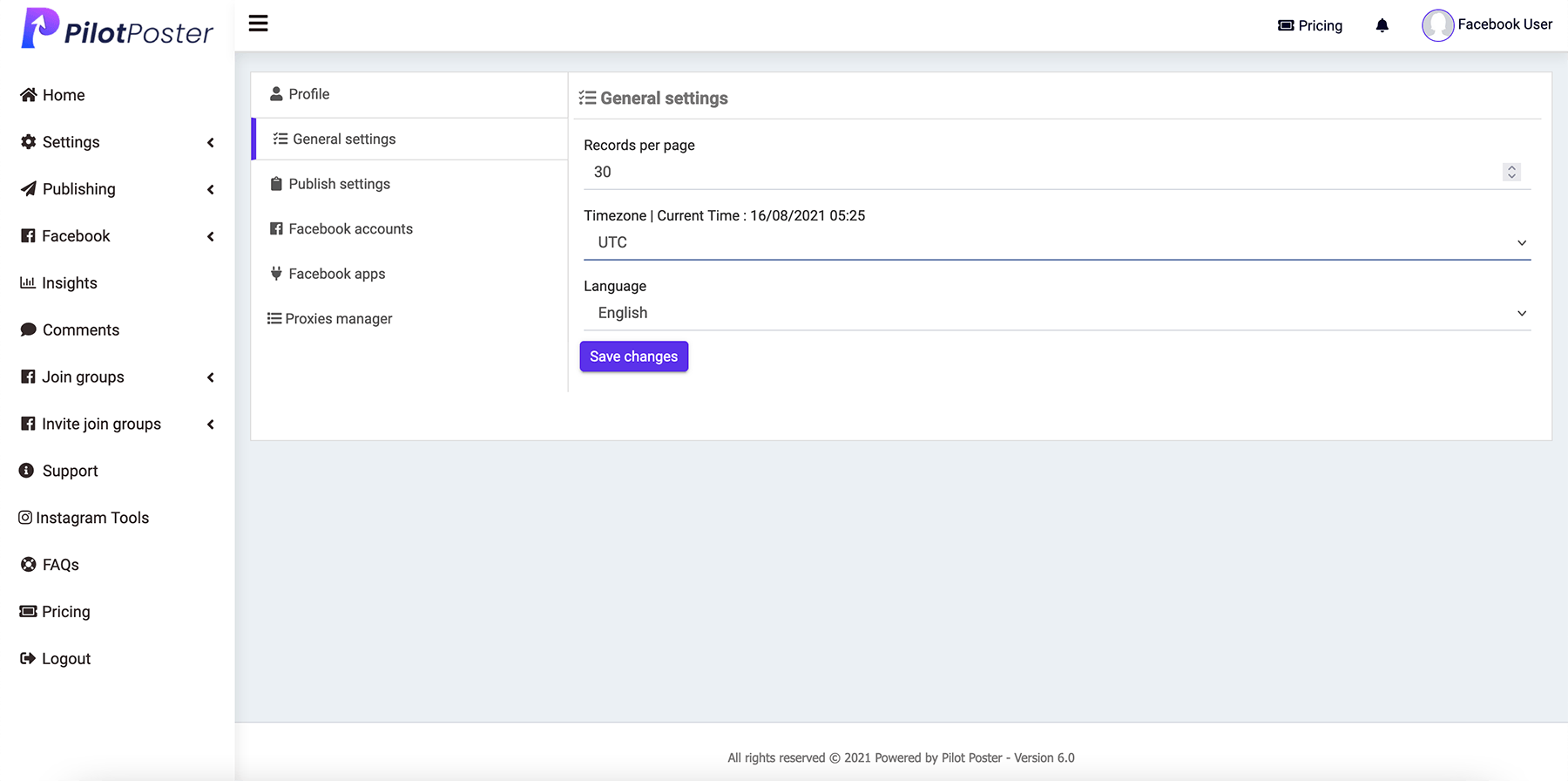 Steps 2: Go to Manage Accounts Page on PilotPoster
Go to Facebook > Manage Accounts page on PilotPoster to add your Facebook account to the app.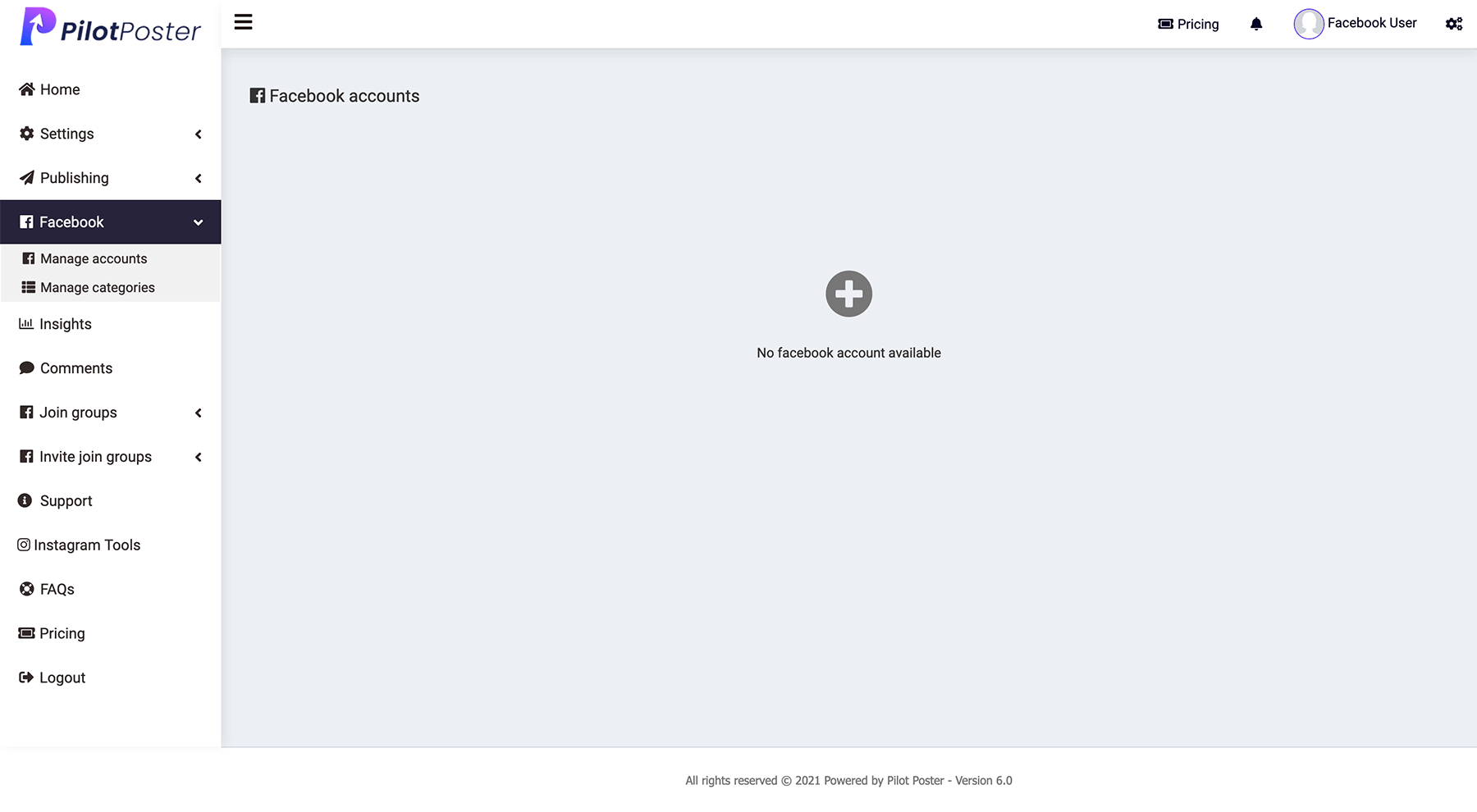 Click on the + icon to add your Facebook account. You'll see the below window.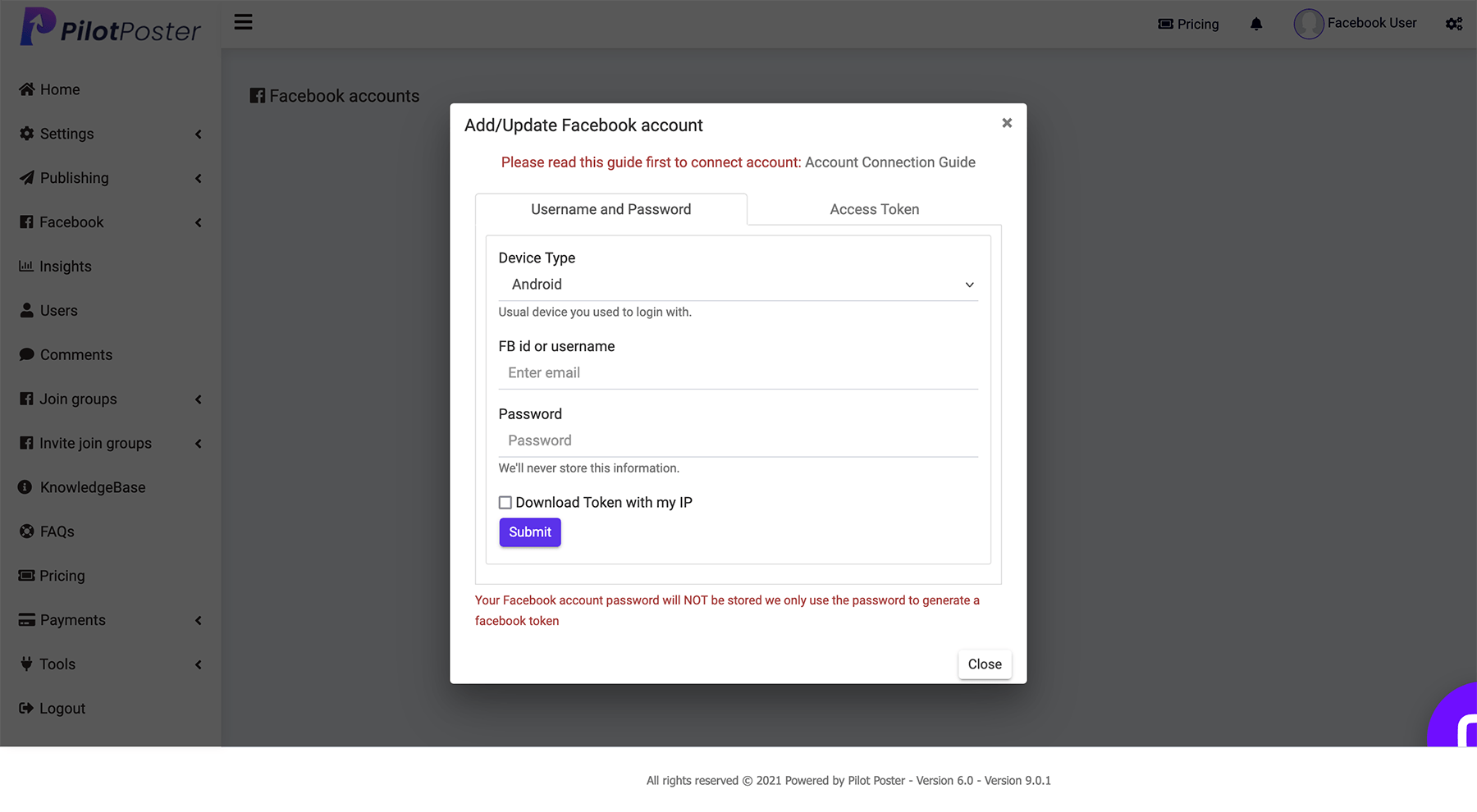 Step 3: Connect Your Facebook Account to PilotPoster
PilotPoster connects to your Facebook account as a mobile device. So Facebook doesn't detect you are using any automation tool and to them, it looks like you are posting from your Android or iPhone mobile device.
When you log in to your Facebook account from a new IP address, sometimes they would prevent you from logging in from the new IP because they think someone else might be trying to access your account. So to prevent this issue, we have 3 options to connect your Facebook account to PilotPoster.
Option 1: Connect through default method
With this method, simply put your Facebook email and password in the above-shown window on the add account page and click Submit button.
NOTE: Before you can click the Submit button, you need to add your PilotPoster Secret Key in the field above where it says to enter the secret key. Your secret key would be included in the initial setup email you received.
Make sure to select a Device type from the dropdown. It's better to select a device you usually login from. If you use an iPhone to use your Facebook account usually, choose iPhone or choose Android if you use Android.
If all goes well, you should see this success window: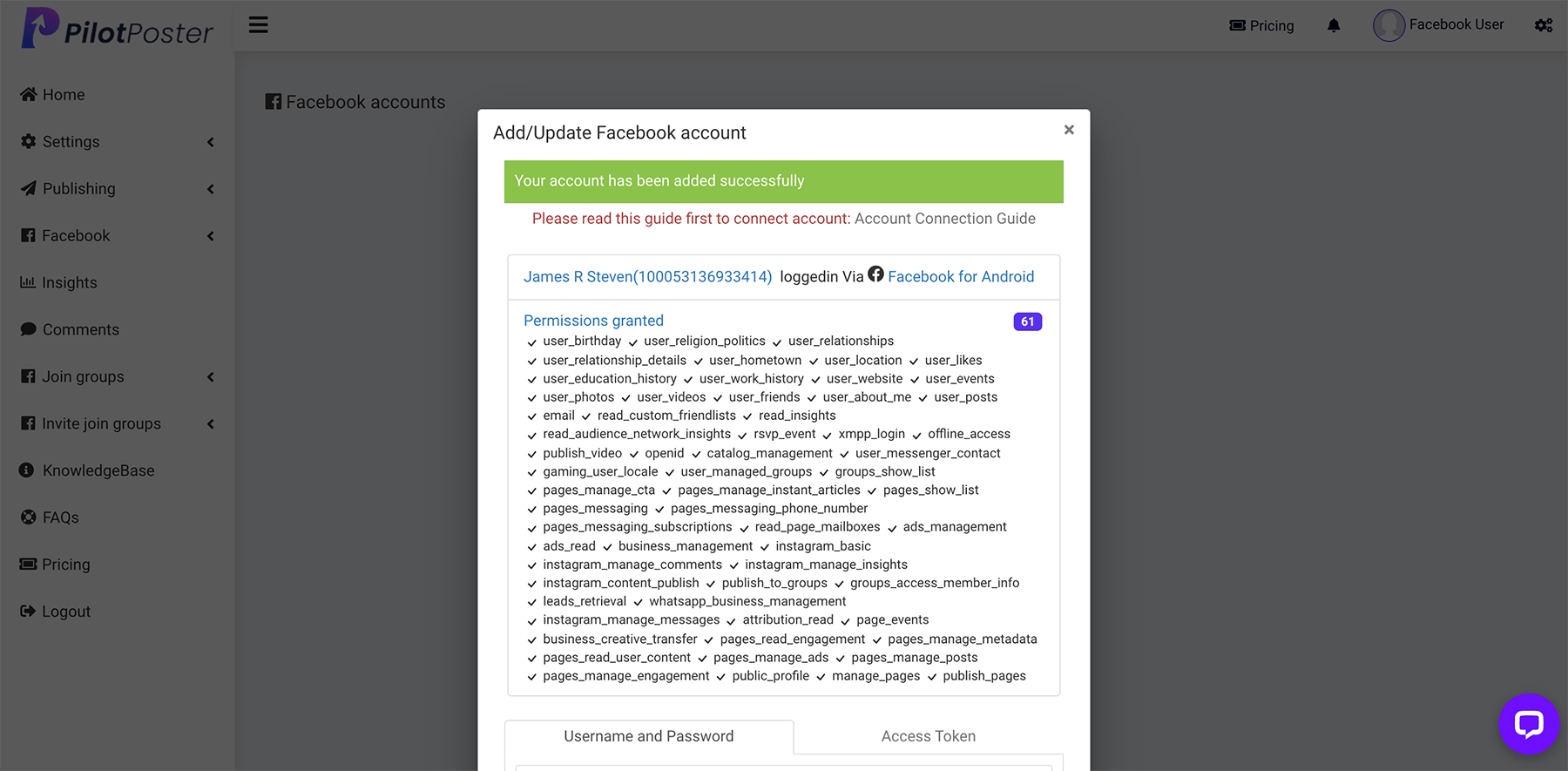 If for some reason you get an error, you can try the alternate methods as explained below;
Option 2: Connect through alternate method
In this method, you should add your email and password details as usual and then check the Download Token with my IP checkbox before clicking the submit button.
Doing that will download an image file to your computer named something like 4747474.jpg
Rename the file by changing the extension from jpg to txt, so 4747474.jpg should become 4747474.txt.
Now open that text file and you will see your session data, out of this data, you need to just copy your access token like this: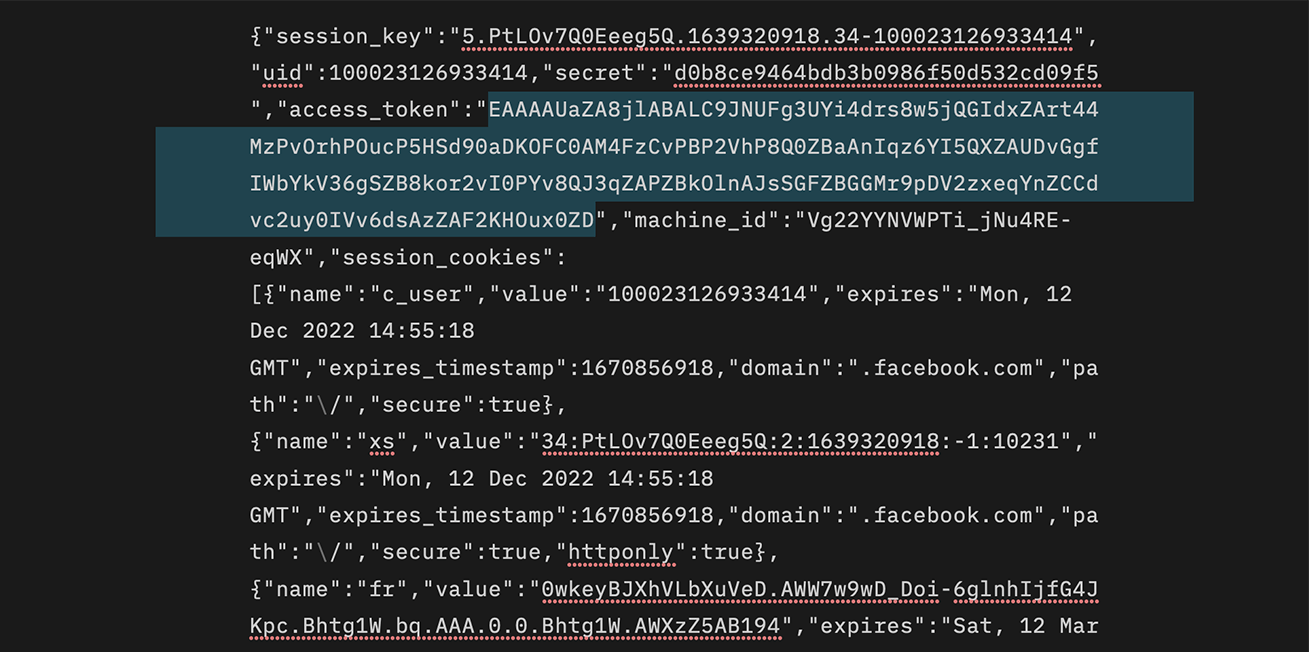 After you've got this access token, add it into access token field on PilotPoster and click Add Facebook account button.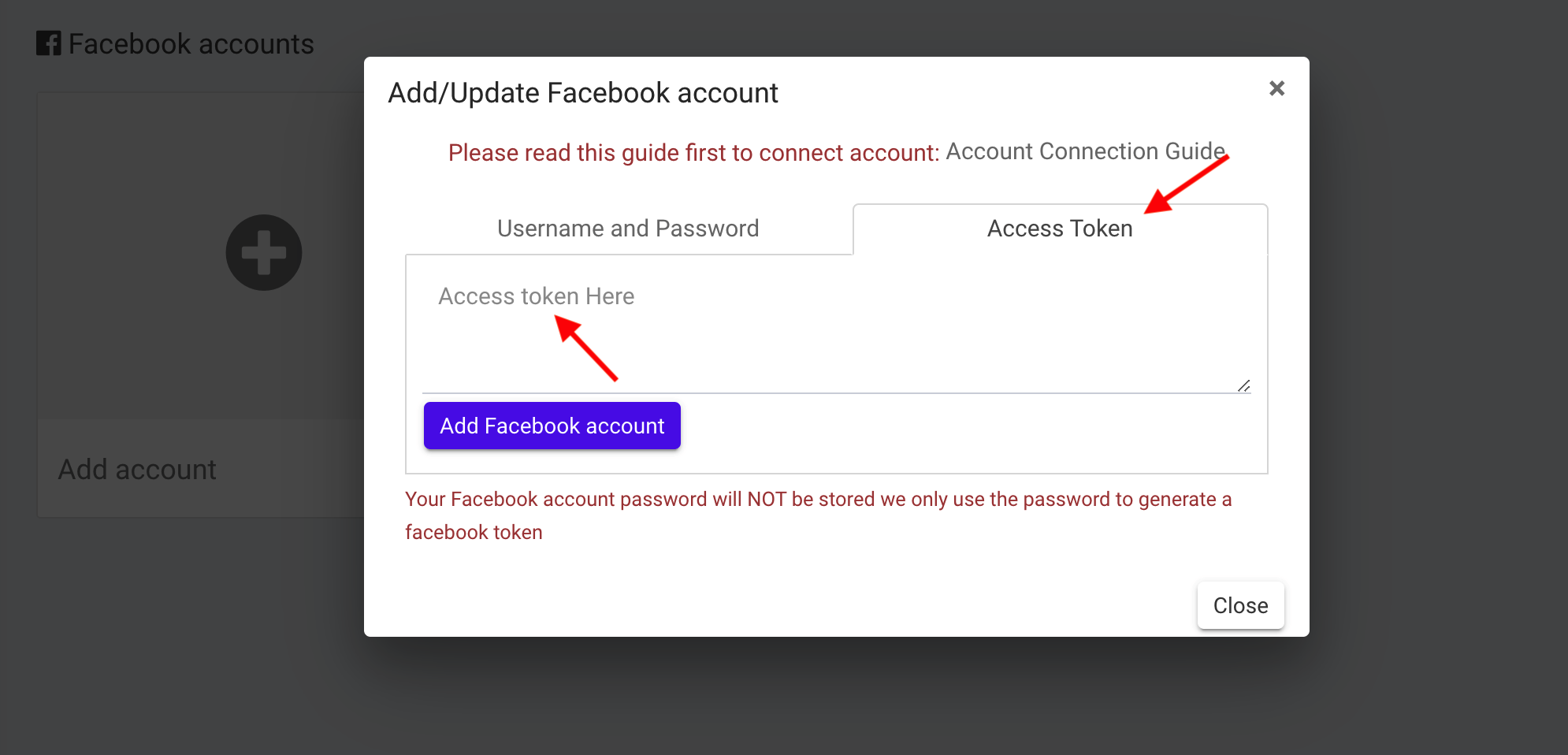 If you get any errors with this method too, here's 3rd method for you.
Option 3: Connect through Chrome extension
Add this Chrome extension to your Chrome browser: https://chrome.google.com/webstore/detail/get-facebook-access-token/coaoigakadjdinfmepjlhfiichelcjpn
After you open that extension on Chrome, it should be looking like this: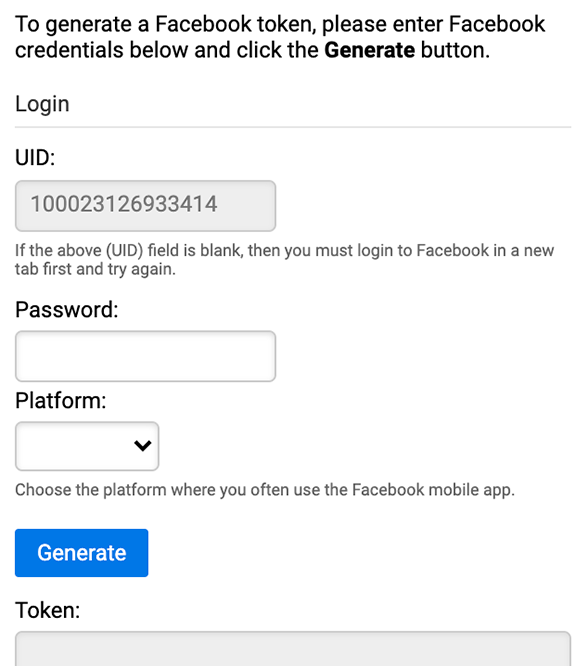 Just add your password, select platform (Android or iPhone based on which device you usually login from) and click Generate.
This will generate a token in the below field. Just copy that and add into PilotPoster as explained in the Option 2.
Rarely for some accounts, Facebook might not allow you to login and ask you to change your password because they think it's not you who is trying to log in. In that case, first change your password on Facebook and then do any of the method again and it should work.
If you still have any issues, you can contact us anytime.
That's it. Your Facebook account is connected!